Empowering women globally to build confidence from the inside out and connect to their authentic selves so that they can feel amazing in their own skin and show up powerfully in personal life and business.
Join Confidence Boost, a free 5-day minicourse that will help you embrace your authentic self and take meaningful action towards a more confident future.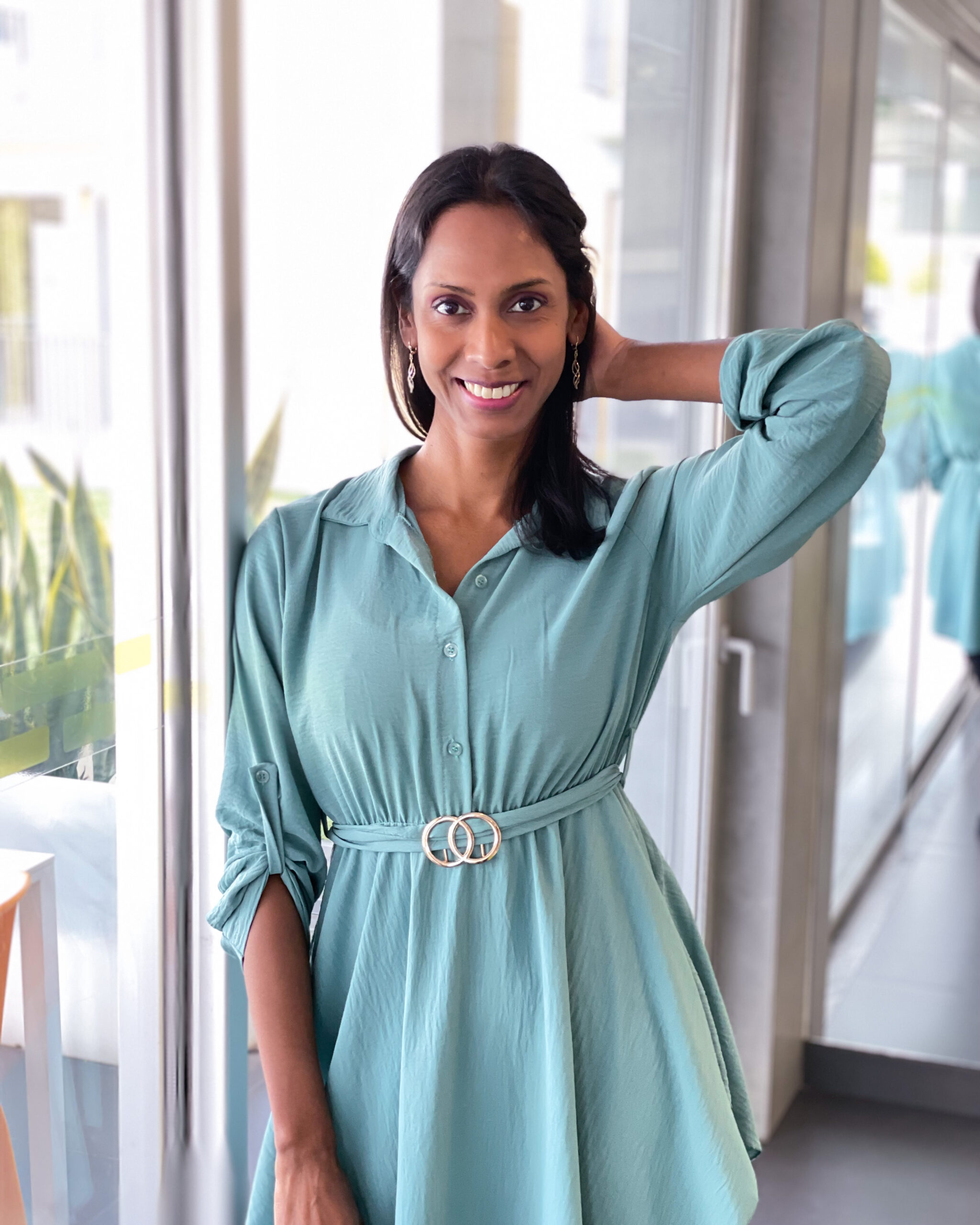 My name is Swarna, your Confidence and Authenticity Coach. As your coach, I'd like to see you return back to your authentic self, your dreams and the whispers of your heart – those whispers you may even be too afraid to voice at the moment. I want to see you living a life of fulfillment, joy and inner peace. I want to see you expressing yourself in the ways that are a part of your original blueprint. My number one value as your coach is to create a safe space for you where you have the freedom to reflect and express not only what you dream of and what you'd like to see happening in your life, but also those pain points, those not-so-comfortable topics that may be even holding you back. And we'll work on your mindset so you'll feel empowered to make your dreams into reality. I'll be your cheerleader on this journey!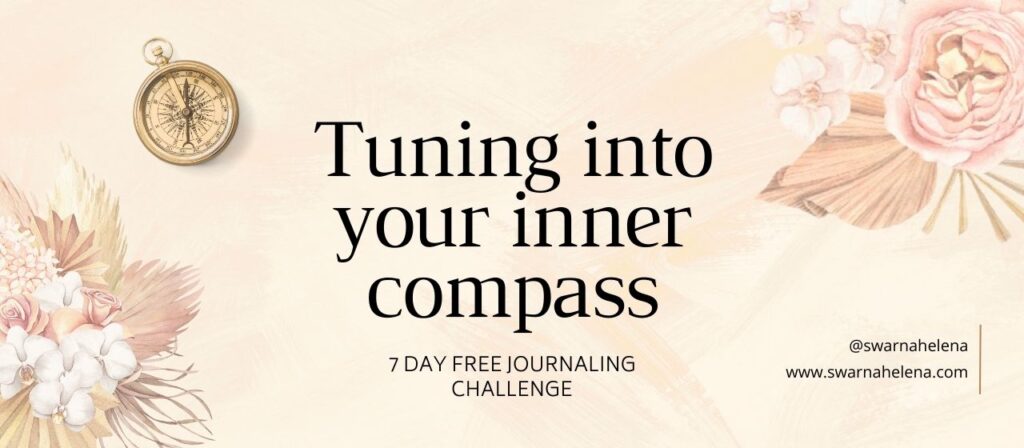 Tuning into Your Inner Compass 7-day FREE Journaling Challenge. Create self-awareness, cultivate a more positive mindset, and increase your self-love.
Are you:
Eager to tune more into self-care & reduce anxiety?

Yearning to connect deeper with yourself and dedicate time for yourself daily?

Gain stress relief by putting your thoughts and emotions on paper?

Looking to start journaling but don't know what to write about? 
If you answered yes to any of the questions, this challenge is perfect for you!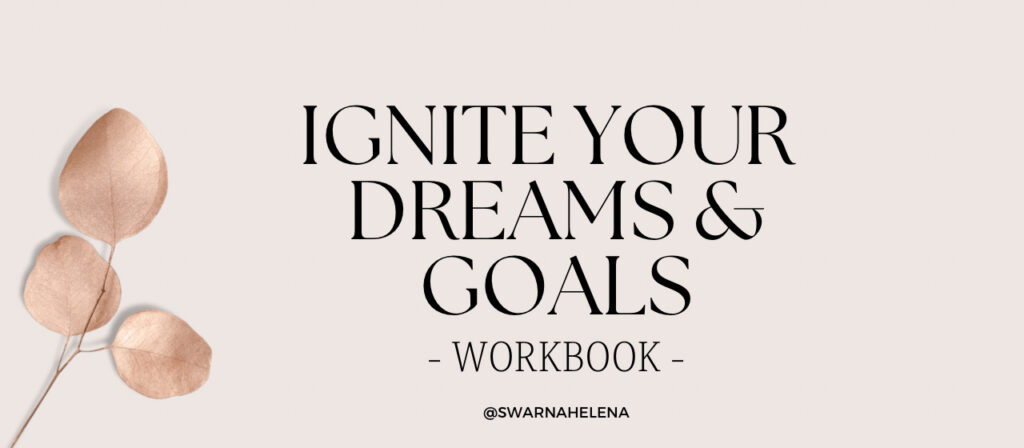 Ignite Your Dreams & Goals FREE workbook.  Get clarity on your dreams, reflect and get back to action!
I've created this workbook as the perfect companion for you if you:
Have set goals but life distracted you.
Want to get more clarity about your true dreams and desires.
Want to put together an action plan for your goal.
I know all too well what it's like not to feel confident in your own skin…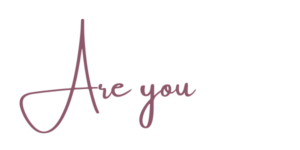 Afraid to show up confidently as the real you, but not sure how to get there?
Afraid your won't be accepted as the real you?
Feeling like your true personality doesn't get to come out because you doubt yourself so much?
Wondering what your authentic self might look like, not ever having explored it?
Going to social events feeling uncomfortable and ending up sitting there quietly because you're afraid to speak up and express your thoughts and opinions?
Craving inner harmony and peace instead of stress and chaos?
Feeling disconnected and watching your life pass by?
Confused about your life path and craving something more meaningful in your life?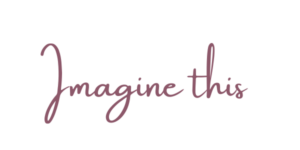 Showing up authentically and confidently, expressing yourself from the heart.

Building confidence that has a foundation in who you are at your core.
Feeling excitement about what you're creating in this world because you know you are living your true purpose.
Not spending time worrying what others think of you when you express yourself authentically.
Being able to use your voice in this world.
Sipping your favorite beverage and feeling relaxed in social situations and sharing your insights with others without feeling awkward.
Waking up and feeling excited about the day ahead of you.
Experiencing inner peace and harmony because you are living in alignment with your mind-body-heart and soul.
Swarna is an amazing life coach. Working with her has been a great blessing. She is passionate, honest, gifted and an excellent listener. After our sessions, I always felt lighter. The intertwined thoughts and doubts I had suddenly made sense and I had clarity on how to approach my goals and work towards them. During the sessions, I felt very comfortable and safe. Swarna is incredibly talented and I would 100% recommend her as a life coach.
Working with Swarna was amazing. She is a pure blessing. The way she helps you go deep on to the root cause of your issue, and then she lets you move out of it slowly that you feel so grateful to take a step towards your goal and have her in your life as a Coach.
She not only helped me with one issue but also made me tap and work on different areas of life that were coming on my way to achieve my goal. During sessions, She created a safe space for me to think, share, let my emotions out, which eventually empowered me to move forward. Every session was learning.
I totally recommend her to people who are feeling stuck to take action and looking for a coach with a peaceful vibe to guide them towards their goal while making them understand its cause so that they won't bounce back to the same position.
a.k.a what we do in coaching
Life coaching is a powerful cooperation between you and me where I help you get closer to where you want to be. I will offer an objective bird's-eye view on your situation and empower you to take the steps toward your goal.
On a journey of self-discovery, there often comes a point where you have tried several different approaches but you are quite not there yet or still stuck. We all have "blindspots" that hold us back. Often, those blindspots are outdated beliefs about our worth, what we "should" be doing with our lives and limiting beliefs around what is possible for us.
In the beginning of a life coaching journey, we assess where you are now, where you optimally want to want to be and how we will bridge that gap between points A and B. This work includes expanding your mindset, helping you to see new possibilities and what is possible for you. Whether your goal is to become more confident, create more self-love and self acceptance or get clarity on your next steps in life, I can help you by shining light on your path, dig up the answers from within you and offer you powerful reflections and insights.
Life coaching is not a substitute for therapy nor is it about giving you advice. It's a process where thought provoking questions and reflections create awareness – where confusion turns into clarity and stuckness into inspiration and action taking.
The coaching with Swarna was perfect for me at this stage, as I was in a transition of a full time job to becoming an entrepreneur.
It got me going and thinking and she helped me to discover and explore my own fear of unknown/failure and to counteract against it. I found it very valuable to discuss a wide range of thoughts with Swarna. I felt she really heard my thoughts and be able to focus them. I felt that each session a lot was poured into the top of the funnel and then the best thoughts made it out. I felt very comfortable and non-judged by her which allowed me to fully open up myself every time. I was looking forward to our next coaching session to discover more about myself that I needed to work on in order to become the best version of myself.
I highly recommend Swarna as a coach.
At the heart of my coaching philosophy is the belief that everyone has the power to create the life they truly desire. I also firmly believe we as human beings are not just a cognitive beings, which is why I take an approach that combines both cognitive and somatic (body-based) techniques. This creates an experience that doesn't just change your mindset, but also helps you become more connected to yourself as a whole.
By using cognitive techniques, we'll work on identifying and overcoming fears, limiting beliefs and patterns that may be holding you back. And by incorporating somatic techniques, we'll tap into the wisdom of your body and help you become more present and connected to yourself. If you'd rather only work cognitively, this is of course possible.
My approach is designed to help you create lasting change that's grounded in both your mind AND body.